Digital Band
Digital Band is an auto-accompaniment software application for Windows. It can automatically and quickly improvise an accompaniment to an import audio file, computer keyboard playing or even humming. By using Digital Band, you are enabled to make an accompaniment without thinking. You can also choose the music emotion, genre, structure and instruments then integrate them to be a beautiful song. Digital Band is an auto-composition software application too. Even a child can use it to write a song in seconds. Musicians can also take it as an idea generator because it is able to create various melodies in the same condition. If you have Digital Band, you have a brilliant music group on the computer.
Auto-accompaniment
Digital Band can automatically improvise an accompaniment to imported audio file, computer keyboard playing or even humming. No much musical experience is required.

Easy-to-use
It doesn't like other music applications which need to spend a lot of time in learning. With the neatly designed interface, even a child can create accompaniments in seconds.

Auto-composition
Digital Band supports to automatically compose music with only one click. You can also choose the music emotion, genre, structure and instruments to make a customized composition.
Rich audio formats supported
Digital Band supports to import multiple audio formats such as mid(MIDI), vsqx(Vocaloid3), ust(UTAU) and nn(NiaoNiao). It also supports to export music as midi or wave file.

Synth Voice/Digital Singer
Digital Band is the first auto-accompaniment software which supports synth voice. The integrated digital singer will sing the song in a simple sound.

Free Updates and Resources
$49.95 is a one-time-charge price for lifetime authorization. The price contains free updates and resources on our official website. No additional fee is required.

AthTek DigiBand v1.8 2013/11/25
Supports piano roll window;
Supports to edit note;
Fixes bugs.
View the update log of V1.8 >>

AthTek DigiBand v1.7 2013/09/12
Use new intelligent interface;
Support to compose music by only one click;
Improvise accompaniments to computer keyboard playing;
Support to convert the accompaniment to numbered notation;
Support to modify the music style of selected section(s);
Support multiple drums.
View the update log of V1.7 >>
AthTek DigiBand v1.6 2013/07/01
Support 3/4 and 4/4 beats in music composition;
Add new genres to database;
Support fine adjustment when editing tracks;
Support dark interface and highlighted buttons;
Support to modify chords directly on the main panel.
AthTek DigiBand v1.4 2013/05/01
Automatically compose music;
Improvise an accompaniment to existing music file;
Improvise an accompaniment to your voice;
Use digital singer in your song;
Rich instruments supported;
Rich music structures supported;
Rich musical emotions integrated;
Enable improvisation-to-inspiration;
Intelligent guides for your quick start;
Multiple audio formats supported;
Support to export music as midi or wave file;
Compatible with Windows XP, Vista, 7 and Windows 8;
Less system requirements.
Support Credit Card (Master/Visa/Discover), PayPal (USD Only), Bank/Wire Transfer with invoice.

Please Note: The product is priced in US Dollar. In some cases you will be charged more with non-USD currency. We kindly ask you to adjust the currency setting to US Dollar and you won't suffer a loss from foreign exchange.
Why do I need a registration key?
There are some limitaions for trial version as you can see in the following table. If you got a license key, all the restrictions will be removed instantly and you will have the permission to use the latest version of Digital Band for lifetime.
Once you click the "BUY NOW" buttion, you will access the payment page as below: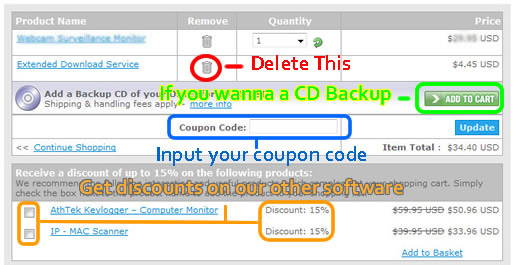 As you can see from the snapshot, we kindly advice that:
a. you may delete the "Extended Download Service", because you can download the latest version from our website whenever you want, and this will cost you additional fee.
b. If you need a CD backup, click the "ADD TO CART" button. Then the CD will be deliveried to you.
c. If you have a discount coupon, please enter it to the coupon field and click "Update". No discount coupon? Click here to get one!
d. Add other software to your cart and you will enjoy a discounted price!
AthTek Software
Digital Band
SKU
UPC
Model
5 of 5 Good Music Composer!
I can't believe that I could create my own music someday. I feel really good because your digiband application makes my dream to be true! Thanks to digiband and AthTek!

---
Click here to submit your review.
---
---